Our Mission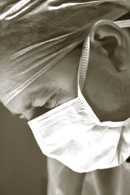 Primacea is dedicated to serving and protecting physicians and hospitals who advance medicine through research, teaching and collaboration with industry.
We believe that physician-industry collaborations have played a critical role in the advancement of patient care and that continued collaborations are vital for the United States to remain the leader in these advancements.
In addition, we believe that the full and complete disclosure of these relationships is essential to maintain public trust in the healthcare system.
The idea behind Primacea was conceived by a physician who was involved with several of the leading clinical trials in his field. He knew firsthand the challenges faced by medical experts in today's increasingly complex environment. He understood the frustrations of physicians in their efforts to understand the complex and rapidly changing regulatory environment. He also understood how physicians lacked an adequate support system to continue this critical work and realized the potential negative impact that could arise if these collaborations no longer occurred, or if they were to be incorrectly represented to an increasingly curious and skeptical public (and the media).
Through the vision of a physician, an attorney and a technology executive, Primacea developed a comprehensive solution focused on representing physicians, supporting hospitals and promoting the full disclosure necessary to maintain public trust.
The company's clients now consist of physicians active with industry, as well as leading Academic Medical Centers. Primacea is headquartered in Metropolitan Boston.