Industry Relationships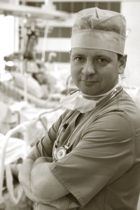 Primacea represents physicians in connection with their industry relationships. These physicians are leaders in their fields who understand that collaborations between industry and physicians are essential to the advancement of medicine and patient care.
Every physician supported by Primacea has the ability to publish a physician profile, because they believe that accessible, transparent, real-time disclosures are critical to maintaining public trust and promoting a general understanding of the value that these relationships provide.
In this era of Corporate Integrity Agreements and Open Payments, it is of the utmost importance for companies to be certain that the physicians they engage understand and have the systems in place to comply with a myriad of laws, regulations, medical center policies and codes of conduct. Working with unsophisticated or uninformed physicians can undermine even the best company compliance efforts. Primacea was established specifically to address critical compliance needs of physicians and is dedicated to providing the expertise and support necessary to ensure such compliance.