Hospital Policies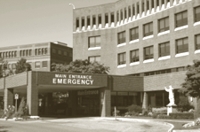 Yale Medical Group | 01-Sep-2010
Yale University encourages its faculty to consult widely. "It is the policy of the Yale Medical Group to promote principled interactions with industry that support the clinical and educational missions of the School of Medicine and to protect these missions from interactions that create actual or perceived conflicts of interest." The policy bans personal gifts, restricts industry-supplied meals, requires consulting engagements to be by written agreement at fair market value, and specifies full disclosure of industry relationships.
Harvard Medical School | 21-Jul-2010
"Clearly, neither academia nor industry alone is equipped to develop the therapies that we so desperately need to eradicate the diseases men, women and children around the world confront. For this reason, we are committed to encouraging collaborations between our faculty and industry while ensuring the transparency of those relationships through a policy that further codifies and enforces our high standards."
Ruthann Richter
Stanford University School of Medicine | 22-Mar-2010
"As a condition for using a Stanford title, [660 community physicians who serve as adjunct clinical faculty] must follow the same policies as full-time faculty and thus are prohibited from accepting industry gifts of any size, including drug samples, under any circumstance. They also will not be allowed to participate in speakers' bureaus, in which they are paid by companies to deliver company-prepared and/or company-provided presentations on drugs, devices or other commercial products."
Stanford University School of Medicine | 15-Mar-2010
"The purpose of this policy is to establish guidelines for interactions with Industry representatives throughout the Stanford University Medical Center (SUMC), which is composed of the Stanford School of Medicine, Stanford Hospital and Clinics and the Lucile Packard Children's Hospital."
Kristina Fiore
MedPage Today | 13-Mar-2010
"Harvard's Partners Healthcare put a cap on payments its physicians can receive for serving on corporate boards at $5,000 a day.... It is by far the stiffest limit imposed by any academic medical center, and drives deeper the wedge between business and academia put in place by increasing bans on gifts, meals, and other relations over the last few years."
Steven L. Dubovsky, M.D., Chair, Department of Psychiatry, University at Buffalo; et. al.
Academic Medicine | 10-Jan-2010
"We describe the evolution in a clinical department of a comprehensive policy for industry relations… We approached the policy with the understanding that it was possible to focus the attention of physicians on their commitment to independent decision making, though it was not possible to restrict anything that might influence them. We disagreed with suggestions that, because research shows physicians are unaware of the influence marketing has on them, they are incapable of learning new approaches to industry relations, making it necessary to legislate behavior with regulations that are impossible to enforce."
Partners HealthCare | 01-Apr-2009
The report recommends principles and guidelines to govern the hospitals' interactions with the pharmaceutical and medical device industries. It addresses gifts, drug samples, physician financial interests in industry, industry representatives' meetings in hospitals, industry funding restrictions, royalties, clinical research conflicts of interest, faculty consulting, speaker bureaus, "ghostwritten" papers, conflicts of commitment and fair market value payments.
Robert Pearl, M.D., Executive Director and CEO, The Permanente Medical Group
San Francisco Chronicle | 15-Jul-2008
"At The Permanente Medical Group (TPMG) - the country's largest medical group with more than 6,000 physicians - our physicians decided four years ago that preserving the sanctity of the physician-patient relationship, and the trust of our patients, was paramount, and that allowing the pharmaceutical and device companies to influence, or even appear to influence, treatment or prescribing decisions was improper. Our medical group established a policy that strictly prohibits our physicians from accepting gifts of any value from drug or device companies."
Liz Kowalczyk
The Boston Globe | 24-Dec-2007
"UMass Memorial Medical Center last week adopted some of the strictest conflict of interest rules in the country, in effect sharply limiting the close ties between many doctors and the makers of drugs and medical devices."
University of Pittsburgh Schools of the Health Sciences and University of Pittsburgh Medical Center | 12-Nov-2007
"It is the policy of the SOHS and UPMC that clinical decision-making, education, and research activities be free from influence created by improper financial relationships with, or gifts provided by, Industry."
Eric G. Campbell, Ph.D., Instructor in Medicine, Institute for Health Policy, Massachusetts General Hospital; et. al.
The Journal of the American Medical Association | 17-Oct-2007
"Overall, institutional academic-industry relationships are highly prevalent and underscore the need for their active disclosure and management."
The Cleveland Clinic Foundation | 06-Sep-2006
"To address professional and commercial integrity in all matters, CCF maintains a program that identifies and addresses Conflicts of Interest, conflicts of commitment, and Consulting."
Troyen A. Brennan, M.D., MPH, Harvard Medical School; et. al.
The Journal of the American Medical Association | 25-Jan-2006
"Conflicts of interest between physicians' commitment to patient care and the desire of pharmaceutical companies ... to sell their products pose challenges to the principles of medical professionalism.... More stringent regulation is necessary, including the elimination or modification of common practices related to small gifts, pharmaceutical samples, continuing medical education, funds for physician travel, speakers bureaus, ghostwriting, and consulting and research contracts."