Oversight & Investigations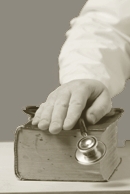 Thomas
Policy and Medicine | 24-Mar-2010
"Letting journalists only use the numbers (money) to attack the legal and ethical work of doctors who are helping train their colleagues is unacceptable. This kind of negative effect will only hurt patients because physicians will have less access to new information and data and they will be less willing to carry out important clinical studies and research because of such attacks for being paid to do such work."
Richard N. Fogoros, M.D.
The Covert Rationing Blog | 16-Mar-2010
"I was sure my career had ended. My family, friends, patients and colleagues were about to see the CEO of my hospital appearing before a hostile Senate Investigational Committee answering questions on the Medicare fraud that I supposedly had committed. I knew it didn't matter that I hadn't done anything wrong. Truth is only a compilation of some facts, whereas perception is everything."
Margaret A. Hamburg, M.D.
Office of Senator Charles E. Grassley | 04-Mar-2010
The Agency's Office of Criminal Investigations (OCI) obtained 4,392 convictions, imposed $9.89 billion in fines and seized assets worth more than $1 billion from its inception in 1992 through fy 2009. The Agency's senior leadership now recommends various changes, including increased misdemeanor prosecutions against corporate officials and enhanced debarments and disqualifications against clinical investigators.
United States Departments of Health and Human Services and Justice | 01-Sep-2009
"During FY 2008, the Federal Government won or negotiated approximately $1 billion in judgments and settlements, and it attained additional administrative impositions in health care fraud cases and proceedings."
Editorial
The New York Times | 12-Jan-2009
"The inspector general of the Department of Health and Human Services reviewed all 118 applications for marketing drugs and medical devices that were approved by the F.D.A. in fiscal year 2007. It found appalling failures to collect [conflict of interest] information and act on it.... The agency's lax performance underscores the need for Congress to pass legislation requiring all drug and device makers to report their financial arrangements with doctors in a public databank."
Daniel R. Levinson
United States Department of Health and Human Services | 01-Jan-2009
Findings of the report: (1) 1% of clinical investigators disclosed a financial interest, (2) FDA cannot determine whether sponsors have submitted financial information for all clinical investigators, (3) 42% of FDA-approved marketing applications were missing financial information, (4) FDA did not document a review of any financial information for 31% of marketing applications, and (5) Neither FDA nor sponsors took action for 20% of marketing applications with disclosed financial interests.
Benedict Carey and Gardiner Harris
The New York Times | 12-Jul-2008
"After a series of stinging investigations of individual doctors' arrangements with drug makers, Senator Charles E. Grassley, Republican of Iowa, is demanding that the American Psychiatric Association, the field's premier professional organization, give an accounting of its financing."
Gardiner Harris and Benedict Carey
The New York Times | 08-Jun-2008
"By failing to report income, [two psychiatrists] at Harvard Medical School may have violated federal and university research rules designed to police potential conflicts of interest, according to Senator Charles E. Grassley, Republican of Iowa. Some of their research is financed by government grants."
Gardiner Harris
The New York Times | 08-Jun-2008
"One of the nation's most influential psychiatrists earned more than $2.8 million in consulting arrangements with drug makers from 2000 to 2007, failed to report at least $1.2 million of that income to his university and violated federal research rules, according to documents provided to Congressional investigators."
Sarah Rubenstein
The Wall Street Journal | 07-Apr-2008
"A University of Cincinnati psychiatrist who was the lead author of a 2002 study that concluded kids did well on AstraZeneca's antipsychotic Seroquel has received hundreds of thousands of dollars from the company since then, according to Sen. Charles Grassley (R-Iowa)."
Gardiner Harris
The New York Times | 19-Jan-2008
"The National Institutes of Health do almost nothing to monitor the financial conflicts of university professors to whom it provides grants, a government report found, and the huge federal research agency does not want to start now."
Alice Dembner
The Boston Globe | 04-Jan-2008
"[An Arkansas neurosurgeon] agreed to pay $1.5 million to settle allegations against him in the whistle-blower suit, which alleges [two companies] provided kickbacks in the form of bogus consulting contracts, fake research studies, and gifts to ... doctors across the nation who agreed to use the companies' devices in back surgeries."
Daniel R. Levinson
United States Department of Health and Human Services | 01-Jan-2008
Findings of the report: (1) NIH could not provide an accurate count of the financial conflict-of-interest reports that it received from grantees during fiscal years 2004 through 2006, (2) NIH is not aware of the types of financial conflicts of interest that exist within grantee institutions because details are not required to be reported and most conflict-of-interest reports do not state the nature of the conflict, (3) Many Institutes primary method of oversight is reliance on grantee institutions' assurances that financial conflict-of-interest regulations are followed.